Decorating the house is always one of the best parts of the holidays. Putting up the Christmas tree with the family, making wreaths, hanging lights and mistletoe, it's all part of creating memories we will cherish for years to come. Why not create even more memories with holiday shed decor? Decorating your Amish shed or barn for the holidays is as easy as decorating your home and creates a fun, festive feel for your yard. Imagine looking out your back door and seeing your shed surrounded by snow with greenery and lights draping the building, creating a calm winter scene for your whole family to enjoy. 
Wreaths
One of the easiest, prettiest ways to decorate your shed is with a simple wreath. Wreaths can be purchased or made. They are simple, elegant, and can be customized to fit any theme. You can use bows, pinecones, bells, feathers, acorns, lights, beads, or anything you can think of to accent your wreath! You can find supplies to make your own wreaths at Hobby Lobby, Michaels, Walmart, or at any of your local craft stores.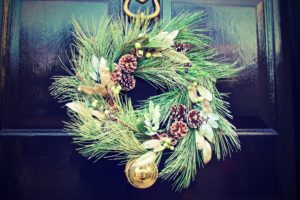 Lights and Garland
Another great way to decorate your Amish shed for the holidays is to use garland to hang above the door. You can twist it together with lights for an even warmer and cozier look! We recommend lights to be used with buildings that have exterior GCIF outlets for ease of access and electrical safety. String lights are extremely easy to find this time of year, being available at Walmart, Lowes, Michael's, and Home Depot. You can string them above the door, around windows, lining the corners of the roof, or all over the building for a National Lampoon's Christmas Vacation feel.
These are simple, fun ways to add a Christmas aesthetic to your outdoor space. The most important part of holiday celebrations is spending time with those you love. Utilize your holiday shed decor to create memories for years to come. Merry Christmas!