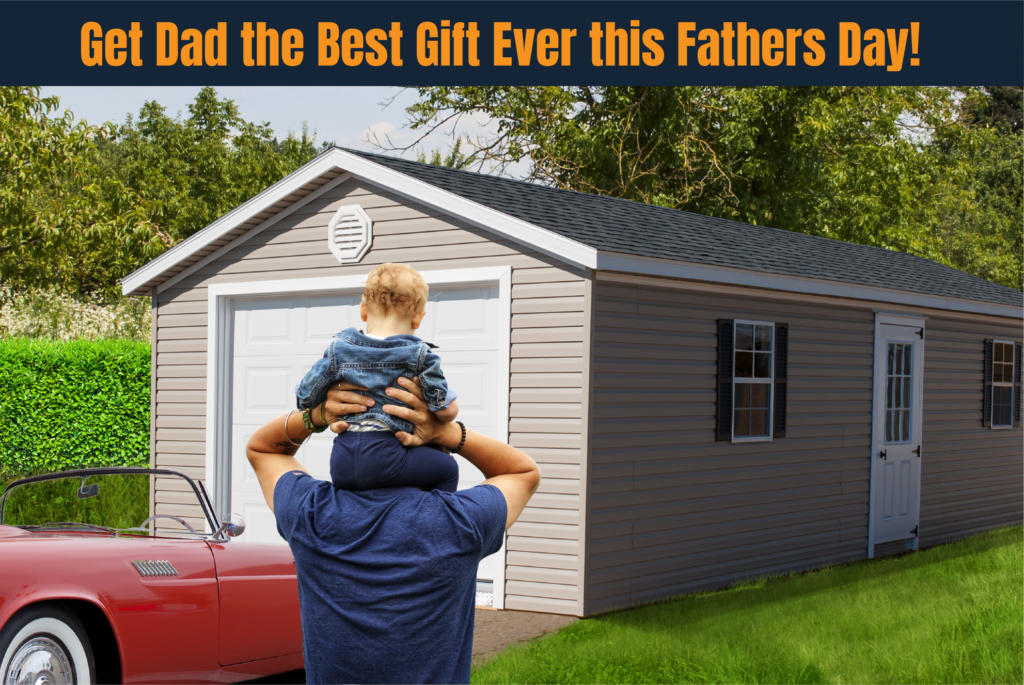 Fathers Day is fast approaching and right now is the perfect time to order him a shed! One of our Amish made buildings would make the ultimate gift for your favorite dad. Our buildings can be used for many different things, so here are a few ideas of ways your dad could use a Sheds Direct shed or barn!
Clean Out that Garage!
Many dads love their garages. From cars to crafts, storage and keeping memories safe, a garage can be a safe haven. Sometimes these safe havens can get cluttered, however. Why not get dad a shed he can use to free up precious garage space? We offer many options to help optimize your outdoor building including lofts, shelving, and pegboards.
Man Cave it Up!
Man caves are stereotyped into basements, attics, and spare rooms. Now is the time to break the stigma: take it outside! Get your dad a spacious outdoor building that he can turn into anything he wants. We offer electrical and heating options to help create the ideal hobby space. The cottage is our most recommended model for man caves (and she sheds!) due to it being already finished out with paneled interior, included 50 Year Floor, a ridge vent, electricity, insulation, and smart siding (can be upgraded to vinyl!). Any of our other models can be upgraded to be almost or just as cozy, so talk to one of our representatives today!
Garden and Yard Storage!

If your dad is anything like mine, he loves working in the yard. Every Sunday afternoon, my dad mows the lawn and works in the flower beds and garden. When we launched our ShedView, my dad was excited to design his own shed to match their house so he would have somewhere besides the garage (which is already full due to a 79′ Bronco, tools for the Bronco, and an old Honda dirt bike) to store the lawn mower, soil, mulch, and other yard tools. If your dad likes working in the yard, a shed could be the perfect present for him. Sheds free up space and create a dedicated area to keep one hobby separate from the others.
This Fathers Day, give your dad a gift he will treasure forever and use daily. Locate your nearest Sheds Direct dealer by clicking here, or design your shed today by clicking here for a free quote.