Firehouse Playhouse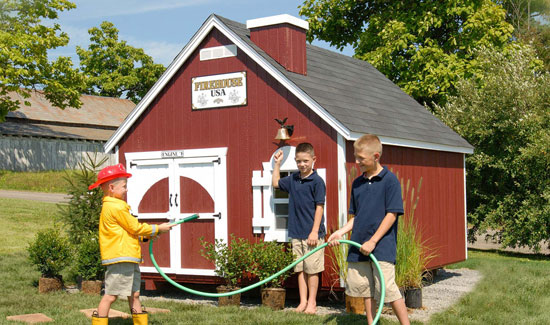 DIY Kit Description
These Firehouse kits are roughly 8' high and are available in three sizes:
DIY Kit Details
Standard Firehouse Kit includes:
2*3 wood wall framing
2*4 wood trusses 2' on center
High quality siding and trim prefastened onto wall panels(insures panels are square)
Panelized walls sections (not just precut) saves time in assembly
Straight preprimed trim prefastened to panels
All other parts are precut and ready to assemble
1 working window with safety glass, grids and screens
Shutters
Brass Firebell
FIREHOUSE USA and Engine #1 signs
Firehouse engine doors are each (40" High x 20" Wide)for an overall opening of 40"*40"
Adult dutch door on back (61" High x 34" Wide)
Hardware needed to assemble (screws, latches, handles, nails)
Outside corner trim (white aluminum)
All trim and siding is preprimed
Printed Step by Step manual with color pictures
Playhouse Kit Options:
Extra Windows (installed by customer)
Floor Kit
Deck and rail
Chimney
Loft (can be installed above firehouse doors)
Printed Manual
Customer Provides:
Shingles *
Dripedge *
Paint *
Floor (if purchased without floor kit) *
Optional: three 4' x 4' pressure treated posts under floor* (required with deck option)
* Above items can easily be purchased by the customer at a local store.
Additional Images: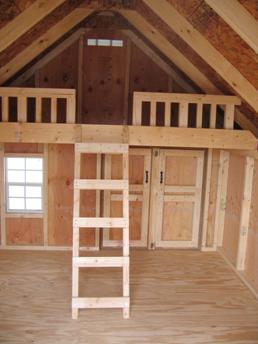 Inside of Firehouse with loft option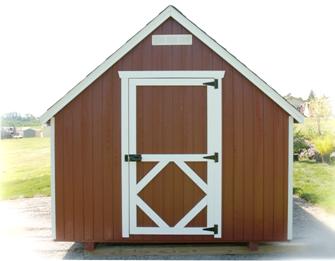 Firehouse Adult Door (at the back)
Delivery of Panelized Kits:
Panelized kits are shipped nationwide via common carrier. When your shipment is expected to be delivered via common carrier, you will be required to have 2 people there to help unload. Your shipment will arrive on a pallet (number of pallets will vary with size of building). The truck driver will help remove the bands and wrapping on the pallet, the 2 people will then be required to unload each panel piece by piece from the truck.
DON'T TAKE OUR WORD FOR IT
Nice guys, did a great job. Will recommend to anybody to who needs a shed.
James Pogany - OH
It was the type of building we were looking for with a reasonable price. Very friendly and easy to work with. Thank you!
Rick Heinberger - Bellville, OH